TOP TEN REASONS TO USE STEEL VS TIMBER FOR YOUR BUILD
We are often asked this question by individuals wanting to build their tiny house, companies building modular homes, and cutting-edge brands wanting something eye-catching and hyper-mobile to take around to events. We'll take a moment to highlight the benefits of steel and Volstrukt steel in particular.
1. A BETTER RETURN ON YOUR FRAMING INVESTMENT. On site-built house framing, most of your monetary investment is in the labor. With modular frame kit models like Volstrukt, 80% of your investment stays in the quality permanent materials used in your house; in our case—the steel itself.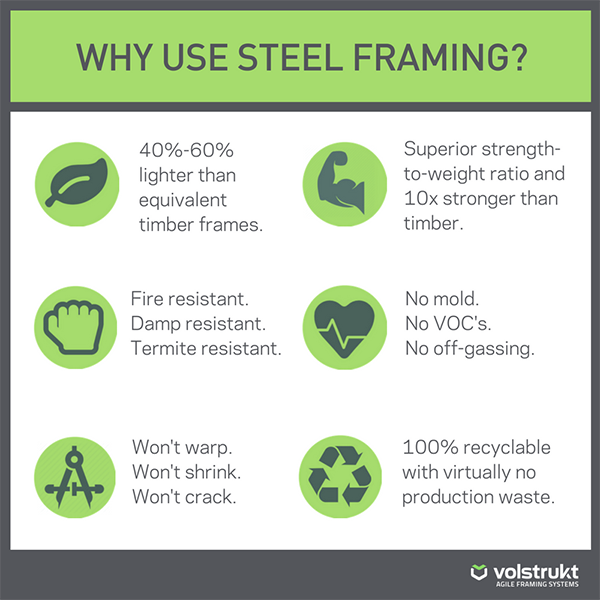 2. LIGHTWEIGHT AND STRONG. When compared to wood, the strength-to-weight ratio of steel is 25x higher. Even more incredible, the weight of steel needed to create our structural frame is 40-60% lighter, at 10x the strength of a comparable wood frame. Half the weight and still exponentially stronger.
3. FAST. At Volstrukt, the steel 'sticks' are pre-assembled into wall and roof "skeleton" panels, ready to be shipped out to your build to place on a foundation of your choice. Next steps will be sheathing, siding, etc. This produces a lightweight structural steel frame in just days.
4. NO MEASURING, NO CUTTING, NO WASTE. Our innovative pre-assembled steel frame panel kits allow our customers to erect a stronger and straighter structure in less time than an experienced framing crew. Our CAD-controlled methods are incredibly precise. A wood frame is only as sturdy as the weakest link (in this case, that could be the new person on the framing crew). The steel is cut to exact spec and requires no cutting or measuring, just fastening panels together at square angles and attaching to your foundation.
5. PEST, ROT, AND RUST RESISTANT. Galvanized steel creates a barrier to moisture and rust and makes an uncomfortable environment for pests like termites. You can be sure the G-90 galvanized steel frame will not rust under normal conditions, plus a bonus: termites cannot eat holes in the steel.
6. WHAT ABOUT EXTREME WEATHER CONDITIONS? WON'T THE STEEL CREATE THERMAL BRIDGING? It used to be a big issue that steel would create a lot of moisture as it changed temperatures with extreme weather conditions (over 90˚F or under 35˚). However, with new construction materials like ZIP™ board and "polyiso" or insulated non-structural sheathing boards made of rigid polyisocyanurate foam and a layer of extra-strong OSB(oriented strand board), plus a water-resistant membrane, providing both breathable and non-breathable thermal resistance.
7. WHAT ABOUT STEEL FRAGILITY AT FOLD POINTS? Not all processes are the same, some create fragility in the steel, so be sure to do your homework. In our case, structural quality sheet steel at 20-22 gauge is rolled through a series of dies and formed into c-sections. No heat is required to form the shapes, thus the name 'roll-formed', or 'cold-rolled'. As they are rolled, each c-section is cut to length, punched, dimpled, crimped and labeled. You can feel confident the structural elements will be sound.
8. ICC COMPLIANT. Our cold-rolled steel process is ICC-compliant and IRC-compliant. You will feel better about the longevity of the build, and hopefully, so will the entity approving your build. Check out the ESR-2361 PDF for more information.
9. FAST FORWARD PAST THE ENGINEER, ARCHITECT AND MASTER CARPENTER. An engineered frame means you can sail past the design phase and avoid the risks for cost increases and delays. With the design done and the frame erected, it is easier to get a fixed budget, whether you are doing the work or bidding to subcontractors. Independently certified by the world's most recognized quality assurance systems and organizations, our roll forming technology and manufacturing processes can be used for building throughout the United States.
10. VOLSTRUKT TEAM. We have many years of steel framing in our corner, and experience counts in this business. We will step you through the design process, make sure you have no hiccups during the build, and are happy to work with everyone to reach their goal. We design and manufacture structural steel frames for tiny homes, modular houses and ADU buildings using the world's most advanced roll-forming technology. Our modular home kits can be manufactured to your custom design. Or, get your project going faster with our pre-designed, ready-to-build frame kits. Either way, it's ready for a "barn-raising". We can send the frame to the builder of your choice to finish out or you can choose to work with one of our favorite, trusted builders. All kits have an option to add CAD drawings and engineering stamps to engender confidence in potential buyers, keeping resale efforts top of mind. We even have our own hashtag to help make your build semi-famous: #volstruktinside.